(Updated: March 4 with the cover of Ghostly Echoes.)
In starting off this blog, I thought I would help any potential readers get an idea of my tastes with some year end/year beginning lists of books I'm excited about.  This one can be summarized as: Books!  2016!  Excitement!
A Gathering of Shadows by V.E. Schwab
February 23, 2016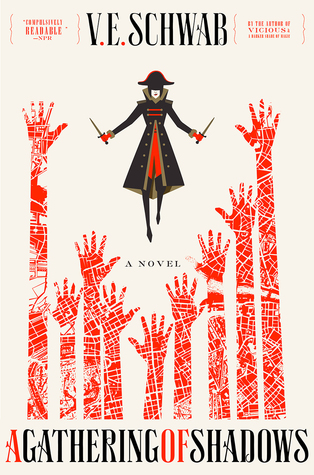 I listened to the audio for A Darker Shade of Magic, and felt ho-hum about it.  It was fine.  However, I think a lot of this was down to my lack of connection with the reader and my expectation of standard fantasy/adventure tropes in the book (i.e. I thought I knew how the book would end, until I reached the end).  I have since read The Archived and The Unbound and really enjoyed them.  (So creepy, so many library references!)  I want to give A Darker Shade of Magic a re-read in text form, and I'm keeping my eye on A Gathering of Shadows.
General synopsis of A Darker Shade of Magic: Kell is able to move between worlds, and serves as a messenger/ambassador of sorts between his king in Red London, and the rulers of White London and Grey London.  Lila, the pirate girl from Grey London summarizes them perfectly in A Darker Shade of Magic: "There's Dull London, Kell London, Creepy London, and Dead London." (That is Grey London, Red London, White London, and Black London, respectively.)  Also, Kell has an awesome coat that he can turn into an endless number of other coats.  The world is imaginative has room for endless adventures, the characters are interesting and complex (there's a bisexual prince who is specifically described as bisexual!!!)  I'm sure that A Gathering of Shadows will be imaginative and unpredictable (especially if Schwab's twitter teasers are any indication) and the synopsis promises the inevitable return of Black London!
The Girl Who Raced Fairyland All the Way Home by Catherynne Valente 
March 1, 2016
I started this series in 2011, while pregnant and commuting four hours each day on a train.  I loved The Girl Who Circumnavigated Fairyland in a Ship of Her Own Making.  I have zero idea how Valente can write these books, my brain does not work this way at all and I am so grateful that her's does.  She makes left turns and analogies that are both perfect and unexpected, and I never quite know what is going to happen next.  It wasn't until this past spring that I read The Girl Who Fell Beneath Fairyland and Led the Revels There, and I got a little bogged down in the reading, and got the audio from the library to help me along.  I really liked it.  And, then I had the same thing happen with the third book, The Girl Who Soared Over Fairyland and Cut the Moon in Two, but I needed that audio even sooner to jolly me along through the book.  Granted, I am a grad student with two small children, so my attention, which these books definitely require, is pretty fragmented somedays, and I am totally willing to believe that I am the wild card between these reading experiences.
However, when I decided to pick up The Boy Who Lost Fairyland, the fourth book in the series, I went straight for the audio version at the library.  And I LOVED it.  Maybe it was me, maybe it was the momentum of the series, maybe it was September needing some more help carrying everything along, but TomThorn and Tamerlaine were perfect.  And Blunderbuss.  Seriously Blunderbuss, the Combat Wombat (which is DEFINITELY where Valente started when she was creating the character).
I just finished The Boy Who Lost Fairyland in time to get excited for the final release of the series, The Girl Who Raced Fairyland All the Way Home.  We'll have Tom and Tam and Blunderbuss and Saturday and A-through-L and of course September.  And the return of the Marquess, I assume.  And September's mother and aunt looking for her.  I'm sure it's going to be amazing and I can't wait to see the unexpected left turns Valente will take!
Forest of Memory by Mary Robinette Kowal
March 8, 2016
I read Mary Robinette Kowal's Glamourist series last year, and LOVED it.  She is such a thoughtful and careful writer, working within the bounds of the historical point she chose for her setting but still being conscious of modern sensibilities and interests.  She handled slaves and plantation-owning so well in Of Noble Family, as well as the hard work that a happy marriage entails between Jane and Vincent, that I am resolved to pick up anything of hers.
Forest of Memory is the story of Katya who finds herself cut off from her A.I. communication and trapped in the woods with a deer hunter.
Bec McMaster Book? 
February?
Bec McMaster is the author of five-book series of steampunk romance novels, starting with Kiss of Steel.  I started reading these books on my Kindle through the recommendations links from other books I'd read—thank goodness for my Kindle only offering tiny, grainy pictures of the covers, because I'm not sure I would have picked them up (having never read romance before and being full of all sorts of assumptions about it).  WELL, these books are all about action and mystery and romance and well-thought out character motivations.
The first book introduces us to Honoria who is a human living in a vampire-controlled London, in which the vampires are referred to as blue-bloods, the Echelon (as in upper).  Class war, female self-empowerment, discrimination based on disability, lots of good stuff in these books.  More on the romance, less on the silliness than Gail Carriger's Parasol Protectorate but I could see big crossover appeal!   The London Steampunk series is the right mix for me of action, mystery, romance, historical (lite), and fantasy.
Not sure what this book will be, or if it is still planned for February, but I am certainly keeping my TV eye on Bec McMaster's webpage for ANY news.
"The Moth and the Flame" and "The Crown and the Arrow" (Wrath and Dawn novellas) by Renee Ahdieh
March 1 and 22, 2016
I saw the amazing cover of The Wrath and the Dawn last year, and then heard lots of great reviews, so I had to try it out.  It was lush, and romantic, and adventurous, and awesome.  I have always loved the idea of Schehrzade using stories to save her life and to heal the sultan's mind.  I am big into fantasy books that get outside the Western medieval Europe setting, and this was exactly what I wanted.  I'm very excited for the upcoming sequel, The Rose and The Dagger, and these novellas were a nice treat!
"The Moth and The Flame" gives us some backstory on Despina and Jalal.
"The Crown and the Arrow" will be the beginning of The Wrath and the Dawn told from Khalid's point of view.
Iron to Iron novella by Ryan Graudin
March 8, 2016
In this novella-filled spring is Iron to Iron which I have had my eye on since I finished Wolf by Wolf in November.  Wolf by Wolf is such an amazing and memorable concept: imagine the Axis Powers won WWII.  There is a Jewish girl who was experimented on until she became a shapeshifter.  She uses this power in the Axis-controlled 1950's to compete in a trans-Eurasian motorcycle race, pretending to be an Aryan girl so that she can kill Hitler.  It's such an amazing idea and Graudin does it very well!  Yael has her own demon (wolves?) that she is working through, not to mention gender politics, competition between the Japanese and German riders, and her stolen identity's own mysterious history with two of the riders.  "Iron by Iron" promises to tell us just what it was that happened between Luka and Adele the year before Yael raced.  SO excited.  SO preordered.
The Winners Kiss by Marie Rutkoski
March 25, 2016
Oh my god.  This might be my most anticipated book of 2016. I got birthday money 6 months before this book comes out and I ordered it toot-sweet because I NEEDS this story.  Fingers crossed Amazon delivers it on March 25 because I might not be able to help myself if I see it on a shelf before it lands on my doormat.
Marie Rutkoski's writing is totally amazing.  She inspires me to get to writing, although comparison with my writing makes mine look like my two-year-old wrote it (e.g. "HHHHHHHHHHkjHJK904RIIIIIIIIIII.")
Kestral is the daughter of the general who conquered the country of Herran, which is now part of her country.  (Imagine the Romans conquering the Greeks.)  The Herrani are now slaves, and while Kestrel has no taste for slave-owning, she buys a young man who can sing because of her own passion for music.  And then, there's all the revolution and aftermath, and feeling caught in the middle.  Kestrel is known for her brains and she's got life issues and self actualization to sort out, so she isn't quite ready for Arin's romance (do it Kestrel, self-actualize!).  He's certainly a bit moody and self-indulgent, but in a way that makes him feel like a human late-teens guy (and like I'd like to give him a good kick in the shins and say, "Buck up!").  All in all, it's wonderful, one of my favorite series of ever.  Go read it now.
Also, all the drama over the cover: Marie Rutkoski could staple it between recycled cereal boxes and I would pre-order it.  It's about the story, guys, not the cover.  And, frankly, I don't love the froofy dress covers and considering Kestrel's destination at the end of The Winner's Crime, I'm not sure there will be a lot of froofy dresses in this last book.
In the Labyrinth of Dragons by Marie Brennan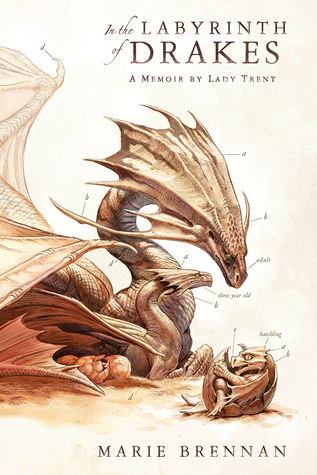 April 5, 2016
Marie Brennan's Lady Trent series caught my eye with the title of the first book, A Natural History of Dragons, and that beautiful cover, done as a sketch of a dragon's skin, musculature, and bones.  A lady scientist researching dragons and bucking the gender-norms of her society.  I'm in!  Brennan's background in anthropology really shines through with her description and treatment of non-white peoples and cultures.  I'm not sure how well that part of the books translates to the general readership, but, with my undergrad degree in anthropology, it is EXACTLY what I've been wanting to see more in fantasy with the treatment of non-white peoples.  (I say non-white because this is a fantasy world, and I feel like people of color has such weight in current conversation that doesn't really apply to a historical fantastical world.)  I need to pick up more Marie Brennan.
This fourth book of the series follows the private, yet bold Lady Trent after her adventures on the HMS Basilisk (analogous to Darwin on the HMS Beagle).  Lady Trent, and her capable entourage, embark on an expedition to the deserts in search of dragons.  And I am 100% sure it will be marvelous.
The Raven King by Maggie Stiefvater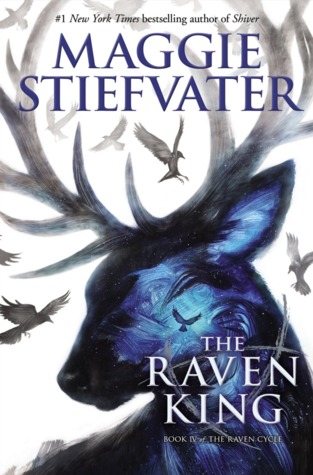 April 29, 2016
Ahh, yes, the long awaited Raven King.  I started this series (The Raven Cycle) last winter around Christmas due to excitement on BookTube.  I had tried reading a sample on my Kindle, and it was fine, but didn't pull me in, but then I gave it another try as an audiobook from the library.  Holy whatevers, I was totally sucked into this world and the momentum just kept building, each book was better, more complex, more layered than the last.  And Will Patton is amazing as the narrator (except for his British accent, which is dreadful, but I don't imagine he was hired for his British-sound).  I haven't pre-ordered it yet because I am going back and forth about getting the audiobook straight off so I can have Will Patton read this conclusion to me.
I finished Blue Lily, Lily Blue in the spring, and was all set up for jumping all over this book in September/October (???) when it was released, but then it was pushed back twice, and here we are looking at the end of April.  But, I'm sure the wait will be worth it.  Maggie Stiefvater is an excellent writer (if you like depth and description), and I even got my non-reading husband and my brother to pick up these audiobooks.  They both burned through them in about a month, which is really saying something!
The Raven King rounds out the quartet of books following Blue, the daughter of a psychic, and three boys, who attend the private school in her town.  So many threads left dangling in the previous book that I can't go into because spoilers galore!  But, we know that Gansey is going to have to die.  Will it be bees?  Will it be Blue, who loves Gansey, but will kill her true love if she kisses him?  WHAT'S GOING TO HAPPEN???
Shadowbound by Bec McMaster
April 2016?
McMaster has been dropping tidbits for readers from her upcoming projects and I WILL be purchasing all of them.  See above for my feelings about her books and writing (hint: I LOVE HER).  Paranormal Steampunk.  Deal me in.  I just need some release dates so I can stop feeling so anxious that she's going to drop off the face of the planet leaving me with only her Facebook post snippets of unreleased projects.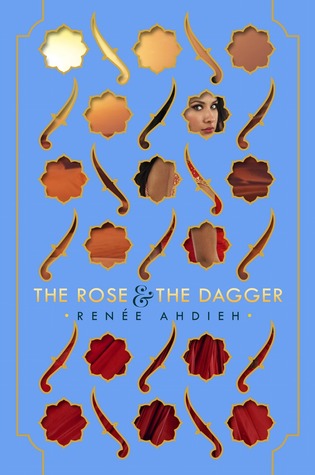 The Rose and the Dagger by Renee Ahdieh 
Mirror and the Maze novella
May 3, 2016
See above for my lovin' of The Wrath and the Dawn and how I am waiting. . .for this book.  Also, Goodreads seems to think that there is a third novella to be published on this date as well?!?  Interrobang!
*Update: Yes, there is another novella released that date, "Mirror and the Maze."  To be read before or after The Rose and the Dagger, I wonder?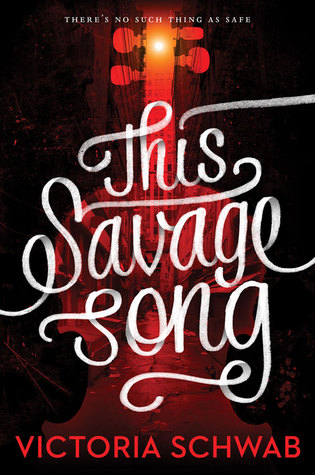 This Savage Song by Victoria Schwab
June 7, 2016
See above for all my excitement of Victoria Schwab's writing.  :)))))) ❤ ❤
This Savage Song is about monsters, monster hunters, and a war between good and evil that isn't so black and white.  And Victoria Schwab's writing.
Ghost Talkers by Mary Robinette Kowal
July 5, 2016
Two MRK books in one year!  This one is about spirit mediums in WWI who gather intelligence from the spirits of solider killed at the front. Sabotage and a woman taking matters into her own hands ensue. Kowal knows what she's doing and I trust her with my time.
The Crimson Skew by S.E. Grove 
July 12, 2016
This is a middle-grade series that got mega-attention when the first book came out in 2014.  The series follows Sophia Tims who lives in Boston 1891, but this Boston is in a world that had The Great Disruption, where chunks of the globe were thrown out of their own time/world and are now patchwork together, creating Sophia's world.  Sophia's parents are missing adventurers, and she lives with her uncle who is the world's best cartologer.  The start to the first book is a little slow, but Grove finds her groove (yes, I said that) once the adventuring starts, and similar to Valente, I have zero idea who or what or where the characters and story will encounter next.  Sophia is an upstanding character (if a tidbit of a goody-twoshoes) and she soldiers on through various adventures to find her family, using plenty of brains along the way.  Grove ties in echoes of historical events that will resonate with readers who remember their American History classes, and even manages a Whovian feel at a couple of points, so I am even more excited to learn about this world.
The Crimson Skew is the third and final book of The Mapmakers Trilogy.  Sophia wants to find Theo and follow the clues about her parents, but the warmongering Prime Minister has a few obstacles in her way, not least is a red fog that when inhaled turns people into murders.
Imprudence by Gail Carriger
July 19, 2015
Gail Carriger was my introduction to steampunk and I will be forever grateful.  I love the world she has created, and the system of check and balances and interplay of the social dynamics, and the ridiculous hijinks.  Her books are fun, quick, and engaging.  Soulless has become my favorite gift for new/expectant moms who like to read; it's a great book for tired moms who are pinned to their seats while nursing and rocking babies for endless hours and need something that their tired brains can get engaged with.  Basically, it's steampunk Victorian London with werewolves, vampires, and ghosts, who all come about because they have excess soul when they die (i.e. they die but not really).  Enter Alexia Tarabotti, who is soulless and can turn any supernaturals back to human form.  Stir in some Wodehouseian hilarity and it's a real good ride!
Carrier has three series, The Parasol Protectorate (following Alexia Tarabotti), The Finishing School series (following Sophronia Temnick—these ones are classed YA), and The Custard Protocol (following Alexia's daughter, Prudence).  I'd suggest reading them in that order, and then going back to re-read them for all the links that hook up the series.  Basically, if it's written by Gail Carriger, I will plunk down some money to get my paws on it.
Imprudence is the second book in The Custard Protocol, which has Rue sailing on a ladybug spotted dirigible this time to Egypt.  Yes please.
Mission Improper by Bec McMaster 
July 2016
See above x2.  <333333
Snippets of this one suggest Bynes and Ingrid will be our protagonists for this first book, set three years after the final London Steampunk book, Of Silk and Steam.  And we have promises of finding out what happens to little Charlie in this new story arc!
Ghostly Echoes by William Ritter
August 23, 2016
This book JUST got a title last week.  I only recently read Jackaby and then immediately needed Beastly Bones.  The analogy arithmetic for this series usually runs along the lines of Sherlock + Dr. Who + Buffy = Jackaby.  Plus these books have that same sense of absurdity that Gail Carriger's books have, though perhaps for a younger audience.  If you are a Carriger fan looking for that silly, fantasy air, look not further.
The series is narrated by Abigail Rook, a runaway Englishwoman with a passion for paleontology who lands in New England and takes up work as Mr. Jackaby's assistant, as he solves crimes relating to the supernatural.  Jackaby is a supernatural seer, so he can see things as they are.  Abigail balances him in that she can see what's right in front of them in the non-supernatural world.  And they don't fall in love with each other.  And they live in a haunted house with Douglas the Duck (previous assistant to Jackaby before being turned into a duck) and Jenny, the ghost who previously own the house before being killed.  Silly and spooky at the same time.  I will certainly be reading this third book.
Blood for Blood (Wolf by Wolf #2) by Ryan Graudin 
October 6, 2016
See above for my feelings on the awesome that is Wolf by Wolf.  No word on the date or title for this one, but I'm hoping it'll be roughly a year from the other one and that we'll have more news by the middle of 2016.  I simply MUST know what happens!
Vicious #2 by V.E. Schwab
2016????
Confession: I haven't read Vicious yet.  I thought I'd bought it for my Kindle, but then when I sat down to read it, no dice.  I must have told myself, I'd rather just get the physical copy.  To be rectified before this book.